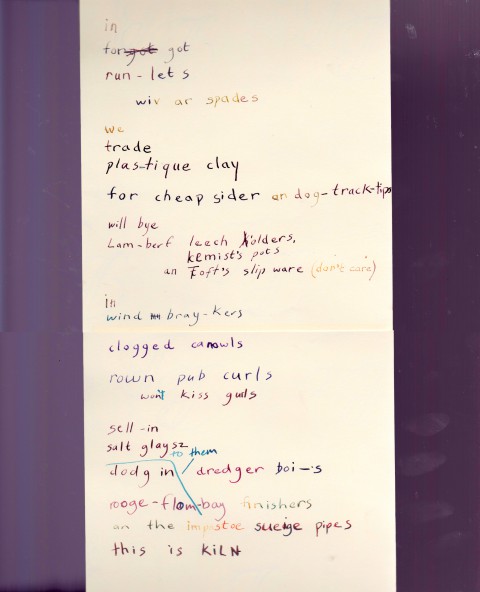 Kiss Teeth


we wanna flip the other over
kiss teeth
press their cooked cheek
down with the slice

Tsss

Come exercise with me
spar

find God
You've been looking at that screen all day

yoga is slippery
but there are church approved forms of exercise

tickets
for the new Anna Karenina
at the hall tonight

Me and Mum and Auntie
and
a thousand white haired highstreet women
with elbow level critique (and breasts)
Keira's use
of mouth and jaw
and eat
tiny pots of ice-cream

the camera is on rails and only goes outside to see the peasants in the fields

and Elizabeth Grosz says
that Bergson says
that problems always come from the outside

and outside is
"at the door"

course

everything else
is at the door…


I was pleased when
I said it took me a long time
to get Isa Genzken
like learning that olives were delicious




you said that lovely thing
about how it feels
to realise
you experience paradigm shifts
and I got this image of science's
undulating white bread –
cartoon slices of space-time

and I am Patrick Swayze and Geordi La Forge passing

through shut doors


or


if you can think of something clearly
andso
on
andso
on

thatis
insomesense
a guarantee of its reality

What happens to exist
is cause of it's use

andso
on


And God, when you told us about how the Greeks named
parts of the lip.

I F lipped out!

are lips doors? (are all doors lips?!)
two fingers to open them?

and jaw hinge to meat olives?

When I am teacher our first class will be to rename our body parts
we will wake up ambitious
and run around stringing words together like Germans and first people

then test the effects of silly causes
what are lips?
face edge protrusions

what is
jumping, what is on?
what is bed?

the next class will not be a class
we will be stand up
What's the difference between a chemist and a linguist?

crushed insect dye makes red
and names the border of our mouths

so lip is not just lip
and our monasteries are now where
musicians beat on meat
new pre-cuss-on!
bang boxes
bam bam
(civilisation has been preserved)
bam bam dilla
(holy ghost)
A me seh
one thing
she cyan unerstan

An the way she look
will prob lee gran
her a life
she will not question
cos he give she answers

because he cannot grapple with his nubile daughter
He wants to go up against me

eff lip my slice
missedher

I hope she'll meet someone
who will show her how things are undone
teach her
to use her borrowed
eyelashes knowingly
profanely like a queen
instead of like, those butterfly diplomats

Ssst

we pass road works where
luminous men in helmets
stand round a crumbly, black
peeled up hole

what walls would need to be broken down
before I could let God in?

wrong question darlin'

the eat house door reads SPICE WORLD

Hair and Time

Does it have mass?
If it has mass:
Does it ever appear to be alive?
Does it grow?
Does it eat?
Does it decay?
Does it require electricity to be of its optimum operational capacity?
Does it literally consume electricity?
Has it been awakened by an intentional electrical charge?
Has it been transformed by an intentional electrical charge?

Can it move?

Can human senses or current human technology detect it?
Is it edible?
Can only animals and small children or those near death sense it?

Does it exist inside or outside the concept of time?
Does it exist inside or outside our concept of time?
Can it move between various concepts of time?

Does it obey the physical laws of its environment?
Does it behave randomly and improbably within the laws of its environment?
Is it interested in pastimes or hobbies?
Does it sting or bite or inhabit the pubic hair of people who do puzzles?
Does it have hair follicles? If yes, do these produce hair?
If yes is its hair growth continuous? Or is it subject to shedding?
Is this shedding or hair production seasonal? Or subject to its diet or other external factors?

If it is hairy, how hairy –over what percentage of its mass?
Also does its hair grow inside/outside/on all sides or only
on a nominal number of sides of its mass?

Does it have sides?

Does any of this hair serve a practical use? If yes does it allow an external substance to be acquired by it?
Or does its hair protect internal or external organs from an external substance or entity?

Does it have gas "follicles"? If yes do these produce gas?

Is it made of purely of shadow?

Does it consist of human thought?
Does it consist of human emotion?
Does it subsist on human thought or emotion?

Has it recently come into being?

Can it be replicated?
If so can it be mass-produced? Could it be marketed?

Can it communicate?

Does it produce thoughts or emotions that are perceptible to humans,
but then human beings assume that these are then their own thoughts or emotions?

Is it parasitical? Does it live under desks?

Has it always lived in human beings, but until now was undiscovered?

Does it belong to a set of similar entities or substance(s)?
Can it communicate with other entities in its set?
Can it only communicate with entities outside of it's own set?